News
Wesleyan Impact Partners Receives $1.25 Million Grant from Lilly Endowment
Oct 10, 2023
"Phygital Preaching Fellows" will lead the church into the new physical and digital public square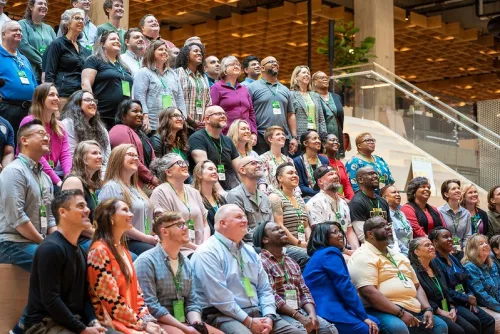 Austin, TX (Oct. 10, 2023) - Lilly Endowment Inc., a philanthropic foundation committed to supporting causes of community development, education, and religion, granted Wesleyan Impact Partners $1.25 million to fund the Phygital Preaching Fellows initiative as part of Lilly Endowment's Compelling Preaching Initiative. The initiative aims to foster and support preaching that inspires, encourages, and guides people to come to know and love God and to live out their Christian faith more fully.
The Phygital Preaching Fellows emboldens fifteen high-capacity preachers exploring and experimenting with new digital technologies who feel called to lead the church into the new phygital (physical + digital) public square. The grant will enable them to discover new delivery systems for the gospel and share their learnings with other preachers, resourcing them for preaching beyond the pulpit.
"Wesleyan Impact Partners works to empower the church to achieve its mission through an ecosystem of congregations, clergy, and spiritual entrepreneurs. We are thrilled to participate in Lilly Endowment's Compelling Preaching Initiative as we seek to discover creative and meaningful ways to share Christ's love in the rapidly evolving phygital space," said Rev. Lisa Greenwood, President & CEO of Wesleyan Impact Partners.
"We pray this will be a Spirit-led movement of preachers into the phygital world proclaiming the good news of Jesus Christ in ways that people of faith and people of no faith can receive and be moved to lead lives of love and generosity so that ultimately our world will be more loving, more just, and more generous," said Chief Learning and Innovation Officer, Rev. Dr. Blair Thompson.
Wesleyan Impact Partners is one of 81 organizations receiving grants through this competitive round of the Compelling Preaching Initiative. Reflecting the diversity of Christianity in the United States, the organizations are affiliated with mainline Protestant, evangelical, Catholic, Orthodox, Anabaptist, and Pentecostal faith communities. Many of the organizations are rooted in the Black Church and in Hispanic and Asian American Christian traditions.
"Throughout history, preachers often have needed to adapt their preaching practices to engage new generations of hearers more effectively," said Christopher L. Coble, Lilly Endowment's vice president for religion. "We are pleased that the organizations receiving grants in this initiative will help pastors and others in ministry engage in the kinds of preaching needed today to ensure that the gospel message is heard and accessible for all audiences."
Lilly Endowment launched the Compelling Preaching Initiative in 2022 because of its interest in supporting projects that help to nurture the religious lives of individuals and families and foster the growth and vitality of Christian congregations in the United States.
Dr. Maggie Jackson, Wesleyan Impact Partners Board Chair, said, "We are honored to receive this grant from Lilly Endowment and support their distinguished mission of helping individuals, families, and communities thrive and flourish. This grant represents a significant step forward in our longstanding effort to connect diverse, high-capacity leaders in conversations and environments that create a network of courage, learning, and innovation to empower the church to achieve its purpose today and in the future."
Wesleyan Impact Partners Learning and Innovation initiative began with a Lilly Endowment grant awarded in 2003 to the Texas Methodist Foundation. Over the past 20 years, supported by subsequent grants from the Lilly Endowment, the Learning and Innovation team has launched a robust portfolio of initiatives, including Learning Communities, Courageous Leadership Imperative (CLI), Courageous Congregations Collaborative (C3), and Igniting Imagination Podcast, directly impacting over 1000 innovative leaders and spiritual entrepreneurs nationwide.


About Wesleyan Impact Partners
Wesleyan Impart Partners is a national nonprofit fueled by impact investors, borrowers, and donors who invest in ministries and innovative leaders courageously doing God's work in the world – partnering in a Spirit-led movement to bring about human flourishing grounded in love, generosity, and belonging.
Throughout its 50-plus-year history, Wesleyan Impact Partners has made thousands of loans totaling over half a billion dollars, empowering churches across the United States to pursue their God-sized dreams while also lifting up the work of courageous spiritual entrepreneurs across the Wesleyan Ecosystem through the nationally recognized Locke Innovative Leader Award. Our work is made possible through partnerships nationwide with impact-focused investors, donors, and Methodist foundations. Based in Austin, Texas, the organization is led by President & CEO Rev. Lisa Greenwood, who is also President & CEO of the Texas Methodist Foundation. To learn more, visit wesleyanimpactpartners.org.


About Lilly Endowment Inc.
Lilly Endowment Inc. is a private foundation created in 1937 by J.K. Lilly Sr. and his sons Eli and J.K. Jr. through gifts of stock in their pharmaceutical business, Eli Lilly and Company. While those gifts remain the financial bedrock of the Endowment, it is a separate entity from the company, with a distinct governing board, staff, and location. In keeping with the founders' wishes, the Endowment supports the causes of community development, education, and religion and maintains a special commitment to its hometown, Indianapolis, and its home state, Indiana.
A principal aim of the Endowment's religion grantmaking is to deepen and enrich the lives of Christians in the United States, primarily by seeking out and supporting efforts that enhance the vitality of congregations and strengthen the pastoral and lay leadership of Christian communities. The Endowment also seeks to improve public understanding of diverse religious traditions by supporting fair and accurate portrayals of religion's role in the United States and across the globe.
Contact:
Janet M. Mitchell
Chief Marketing Officer
Texas Methodist Foundation